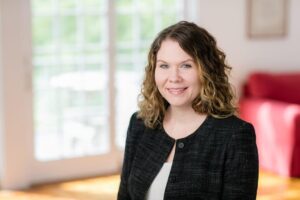 Tiffany has been representing individuals injured in Delaware since becoming a member of the Delaware State Bar in 2010.  Licensed to practice law in Delaware and Pennsylvania, Tiffany represents clients in a range of civil litigation matters including, but not limited to, personal injury, trust and estate litigation, real estate litigation, as well as contractual disputes and consumer fraud. Her personal injury experience includes automobile, truck, and motorcycle accidents, along with slip and fall, medical malpractice and wrongful death cases. She is experienced in handling cases throughout all stages of litigation, from inception through trial and on appeal.  In 2016, the National Academy of Personal Injury Attorneys named Tiffany to the Top 10 Personal Injury Attorneys Under 40 in Delaware.
Tiffany attended St. Mark's High School in Delaware. She earned her bachelor's degree in Economics from Boston University, then graduated summa cum laude from Duquesne University School of Law in 2009. While in law school, she was a member of the Duquesne Law Review and interned for the Honorable Joy Flowers Conti, United States District Court for the Western District of Pennsylvania.
Tiffany is an associate attorney at MacElree Harvey, a full-service law firm serving Delaware and Pennsylvania.  She joined MacElree Harvey in the summer of 2016 and spends her time in the Delaware office located in the Village of Centreville and in the Kennett Square office.
Tiffany is a member of the Delaware State Bar Association, the Delaware Trial Lawyers Association, the Pennsylvania Bar Association Civil Litigation Section and the American Bar Association Litigation Section.
Tiffany is active in the Delaware community through her participation in the Centreville Civic Association and currently resides in Wilmington with her husband and two children.